4 Amazing Delicious Slow Cooker Dinner Recipes For Spring!
What happened if you can cook and do your essential works at the same time? Obviously it will be a great fun to do this. In springtime when the weather getting warmer try this dishes to taste a different taste. You just throw all the ingredients on the slow cooker and after hours it'll be ready without any hassle of stirring. Let's explore these 4 super delicious Slow Cooker Dinner Recipes together.
               Top  4 super delicious Slow Cooker Dinner Recipes
                                Quinoa Risotto with Asparagus and Carrots
Ingredients:
½ quinoa
1 c. low sodium chicken broth
¾ c. boneless skinless chicken breasts
2 medium carrots
½ bunch asparagus
2 cloves garlic, small
1 c. frozen or canned peas
Salt and freshly ground pepper to taste
Related Articles: Best Chicken Salad Recipe! Easy to make at Home!
How To Cook:
Combine quinoa, ¾ cup chicken broth, chicken, round cut carrots, minced garlic and salt and pepper as required in a slow cooker.
Cook on high for almost 4 hours. When the chicken becomes fully soft and easily shred without forks, shred the chicken.
Now add the peas and asparagus and cook for more 30 minutes.
Add the remaining chicken broth and cook as much time needed to become creamy.
Garlic Lemon Chicken
Ingredients:
1 lb. boneless skinless chicken breasts
1 ½ c. chicken broth, low sodium
½ tablespoon sugar
1 onion, large and coarsely chopped
1 large carrot, cut into pieces
3 clove garlic
2 sprigs thyme
½ c. peas, frozen or fresh
1 lemon, juice and zest, equally divided
Kosher salt
Black pepper as required
How To Cook:
In a medium skillet sauté both side of the chicken breasts over high heat for a couple of minutes per side. Add salt and pepper and transfer in a slow cooker.
Now add garlic, onions, sugar, 1" pieces carrots, chicken broth, thyme, zest and juice of half lemon, salt and pepper as required. Cover and cook for 6-7 hours on low or if you have a hurry then cook at least 3-4 hours on high.
Now add frozen peas and cook for another 3-4 minutes. Now add the remaining juice and zest of the lemon and serve quick to get the real taste.
French Dip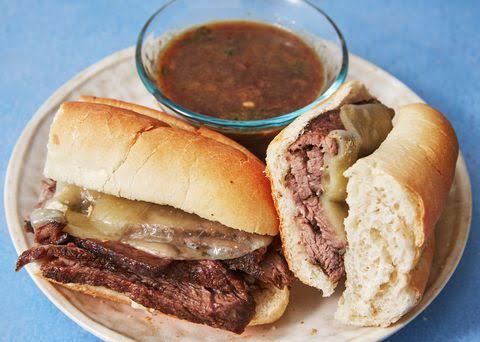 Ingredients:
For the beef:
2 lb. beef chuck roast
½ c. water
2 tablespoons soy sauce
1 onion, medium
3 cloves garlic
1 ½ c. beef broth
4 teaspoons Worcestershire sauce
3 sprigs thyme
4 sprigs rosemary
Ground black pepper and salt as required
       For the sandwiches:
Hoagie rolls
Provolone
Fresh parsley
Butter, melted, for brushing
How To Cook:
Place beef chuck roast, water, beef broth, chopped garlic, thinly sliced onions, Worcestershire sauce, soy sauce, rosemary, thyme, pepper and salt in a slow cooker. Cover with lid and cook for 5-6 hours on high or as much time needed to soften the beef. Remove the beef from the cooker and let it cool completely.
Sliced the beef thinly on a chopping board.
Prepare the sandwiches. Top the hoagies with beef, parsley and provolone. Brush the rolls with melted butter and bake for 5-6 minutes in a preheated oven on 350 degree. When the cheese melts take off from the oven and serve.
 Beef with Broccoli! The delicious Slow Cooker Dinner Recipes
Ingredients:
1 cup or more cooked jasmine rice
1 lb. sirloin steak
2/3 c. soy sauce
2/3 c. brown sugar
2/3 c. beef broth
2 tablespoons sesame oil
2 teaspoons sriracha
2 green onions and more for serving
1 c. broccoli floret
3 teaspoons cornstarch
2 small cloves garlic
Sesame seeds for garnish
You can also Read:4 Super Healthy Low Carb Recipes for Spring
How To Cook:
Add steak, beef broth, soy sauce, sesame oil, minced garlic, green onions, sriracha and brown sugar in a slow cooker. Now cover with lid and cook for 3 ½ to 4 hours or as much time needed to soft and tender the beef.
After almost 4 hours, take few tablespoons of beef broth from the slow cooker in a bowl and mix the cornstarch with it by a whisk. Pour the mixture on the slow cooker and stir with the beef to combine it well.
Now add broccoli and cover and cook for another 20 to 25 minutes more.
Now spread the cooked jasmine rice in your preferred dish and pour the beef and broccoli over the rice. Now garnish with sesame seeds and green onions and serve.